Conference Drawings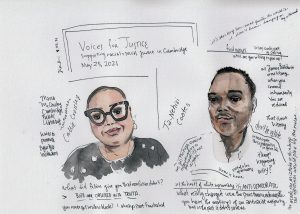 Part of Jojo's current artistic practice involves drawing conferences. By drawing portraits of speakers surrounded by notes highlighting salient points in the talks, she captures the event differently from a screenshot or recording. She responds to the conversation and pulls ideas out and incorporates them as she draws the portraits.
Although this practice began with sketches at in-person conferences, the turn to video conferencing made the activity that much more meaningful. Bringing people together on one page helped cohere the distant faces cohabitating a virtual grid.
After receiving attention for her in-person sketches at the conference of the Association for Computers in the Humanities (ACH) in 2019 and then during the Modern Language Association (MLA)'s 2021 virtual conference, Jojo was invited to serve as artist-in-residence for the University of Toronto's Book History and Print Culture Colloquium in March 2021. Read more about the event on the Colloquium's website.
Professor Alan Galey, Director, Book History & Print Culture program and Associate Professor, Faculty of Information and Department of English at the University of Toronto, provided this testimonial:
Jojo Karlin made a real difference to the Book History & Print Culture program's 2021 graduate student colloquium by serving as our first ever Artist in Residence for the event. Given that this was our first virtual colloquium, held via Zoom, we thought Jojo's wonderful illustrations would create a different kind of record of the event, in a medium that humanizes the speakers and their ideas, beyond just rectangles on screens. We were delighted with the results
[https://bhpctoronto.com/media/illustrations/] and enthusiastically recommend Jojo to organizers of similar events.
On April 12, 2021, Jojo had the honor of appearing on Kathleen Collins's "Indoor Voices" podcast.
Episode 57: Jojo Karlin on drawing ideas
To learn more about her process, you can find details in this November 9, 2020, interview with NYU Libraries.
https://guides.nyu.edu/blog/Libraries-Fellow-Visualizes-Concepts-Through-Graphic-Scholarship